The client: Relais & Châteaux



Cas client Naes - logo Relais & Châteaux
Established in 1954, Relais & Châteaux is an association of more than 550 landmark hotels and restaurants operated by independent innkeepers, chefs, and owners who share a passion for their businesses and a desire for authenticity in their relationships with their clientele.
Relais & Châteaux is established around the globe, from the Napa Valley vineyards and French Provence to the beaches of the Indian Ocean. It offers an introduction to a lifestyle inspired by local culture and a unique dip into human history.
Relais & Châteaux members have a driving desire to protect and promote the richness and diversity of the world's cuisine and traditions of hospitality. They are committed to preserving local heritage and the environment, as encompassed in the Charter presented to UNESCO in November 2014.
Problem statement: refresh the editorial line
Relais & Châteaux's objectives was to externalize the management of their social media accounts and to be guided on a new editorial line. The challenge was to create posts that would highlight the brand's engagements and its Chefs know-how.
Cas client Naes - Relais & Châteaux - Visuel Compte Instagram Realis & Châteaux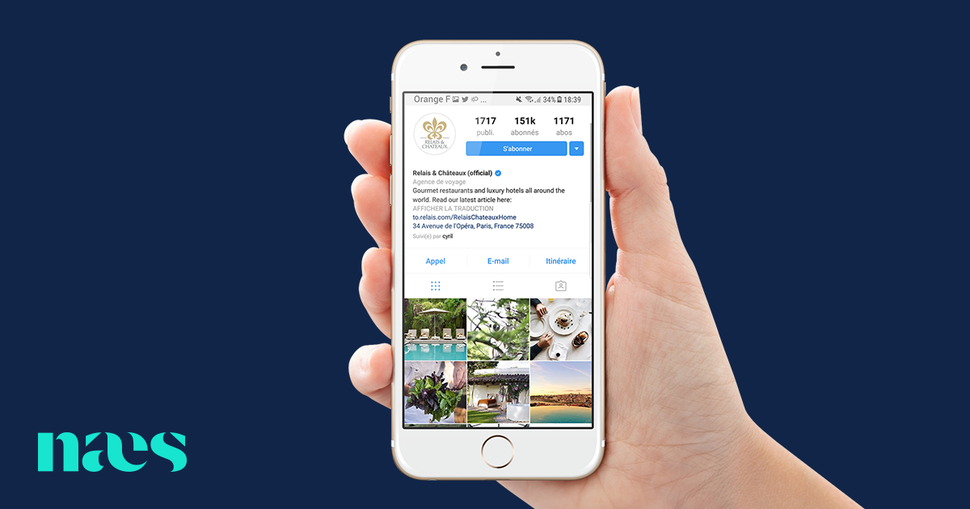 Naes solution: reorganize social media management
To refresh Relais & Châteaux's voice on social medias and to improve the daily organization of the Community Management, Naes put in place some strategic and operational actions:
A thematic classification of social networks contents to give more balance between the different messages of the brand and its members;
The creation of a new editorial calendar to manage monthly posts;
The creation of organic campaigns based on users generated contents (UGC) from the Relais & Châteaux's community and members;
The creation, redaction and management of the posts on Facebook, Instagram and Twitter;
The implementation of new publishing rules, such as systematically tagging the Relais & Châteaux's community & members accounts;
The daily moderation of the brand's contents.
The benefits for Relais & Châteaux
Naes strategic and operational support brought Relais & Châteaux several benefits:
Strategic recommendations to help them develop followers engagement on their social networks;
A better organization and management of their social media accounts;
A better organization of their social media editorial line;
An optimization of interaction and engagement with their social community, especially on Instagram: the brand noticed an important rise of its followers' engagement (an increase by 56% of the comments from September 1st to December 31st, 2017);
A regular Community Management support (editorial development, programming and moderation).
If you are also interested in being helped on your social media strategy, don't hesitate to contact us and meet our passionate Community Managers!