The client : CSN Energy
Created in 2012, CSN Energy is a startup that has developed and markets a digital platform (WeDeex) for the transactional management of energy purchase and sale operations - gas and electricity.
This platform allows decentralized management of energy supply and gives companies and local authorities the means to accelerate their energy transition, improve the operational performance of their business and improve their customer relations.
Based in Paris, the CSN Energy team supports its customers throughout Europe.
CSN Energy aims to be a learning, bold and innovative society. Knowledge sharing, customer centricity, commitment, integrity, simplicity and entrepreneurial spirit are its core values.
The problem statement: highlight the Wedeex platform​
CSN Energy asked for a website that could evolve and that would allow it to present its Wedeex platform and all its functionalities to its customers and prospects.
The site had to meet several key objectives:
Effectively present the solution offered by the Wedeex platform;
Address profiles of potential B2B buyers;
A responsive design for Mobile and Desktop;
To be in line with the new Wedeex logo with a coherent graphic charter;
Be multilingual;
Be able to evolve over time;
Be well referenced on search engines.
Naes answer: a Drupal website
To answer this demand, Naes has entirely designed and developed a website powered by Drupal where all contents can be managed easily (all web pages, navigation menu, forms and even users of the back-office !), etc.
Naes - Wedeex new website screenshots
mise_en_page_case_study_web_en.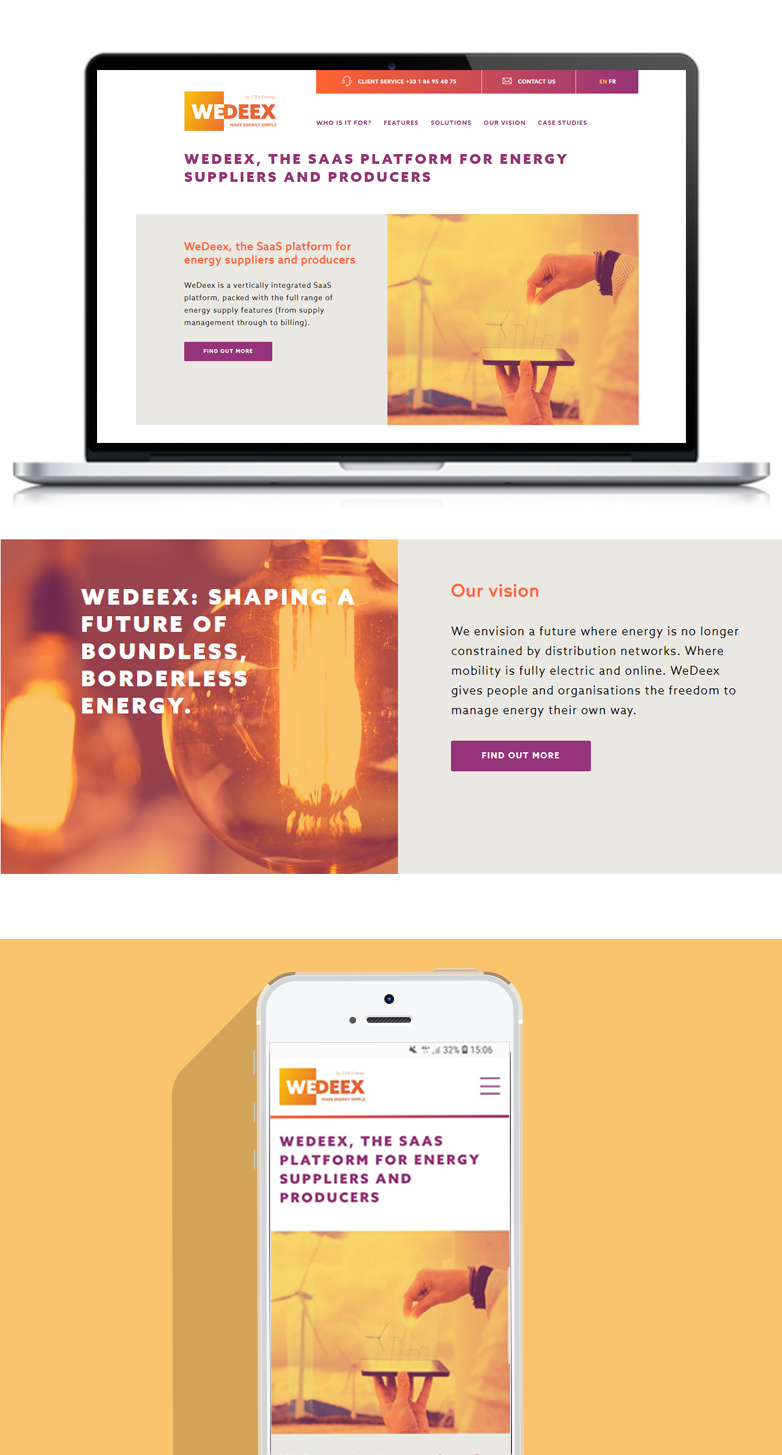 The agency ensured the realization and the entire management of this project by intervening on :
The analysis and expression of needs;
The realization of the wireframe models and the graphic charter;
The IU/UX study as well as all the contents from both a web and a marketing/SEO point of view;
The development of the website front and back office on Drupal;
The implementation and configuration of the hosting server and domain.
The benefits for CSN Energy
For CSN Energy, the benefits provided by this site propulsed by Drupal are numerous:
All text and image content can be easily managed thanks to the creation of a customised dashboard within the back office;
The website is responsive: mobile, tablet, desktop;
The contact form is manageable and facilitates the acquisition of new prospects;
The website is available in English and French and is ready to welcome new languages;
Since the website is based on Drupal technology and its open-source modules, it is very easy to make it evolve to meet tomorrow's challenges.
Technologies used for this project
CMS / Framework Drupal 7;
LAMP Server (Linux, Apache, MySQL, PHP);
Framework jQuery, jQuery UI.
The website is available here: wedeex.com/en
If you also want to launch a website that can be easily manageable and made to evolve through time, do not hesitate to contact us!