The client : Synertrade
With more than 500 clients, SynerTrade is one of the most comprehensive vendors of eProcurement and expense analysis solutions worldwide.
Its eProcurement Suite – SynerTrade Accelerate – brings customers to the next level of digitalization offering them access to the best of today's technologies, including cloud, big data, community and mobility.
SynerTrade is one of the software entities of Digital Dimension - Econocom Group.
Problem statement: refresh the blog's design and ergonomics
Synertrade has been developing content dedicated to ePurchasing solutions on its blog for its international partners and prospects for several years now.
Its general design becoming obsolete, Synertrade asked Naes to improve its overall visual aspect, but without questioning the existing technical structure.
Ancien blog Synertrade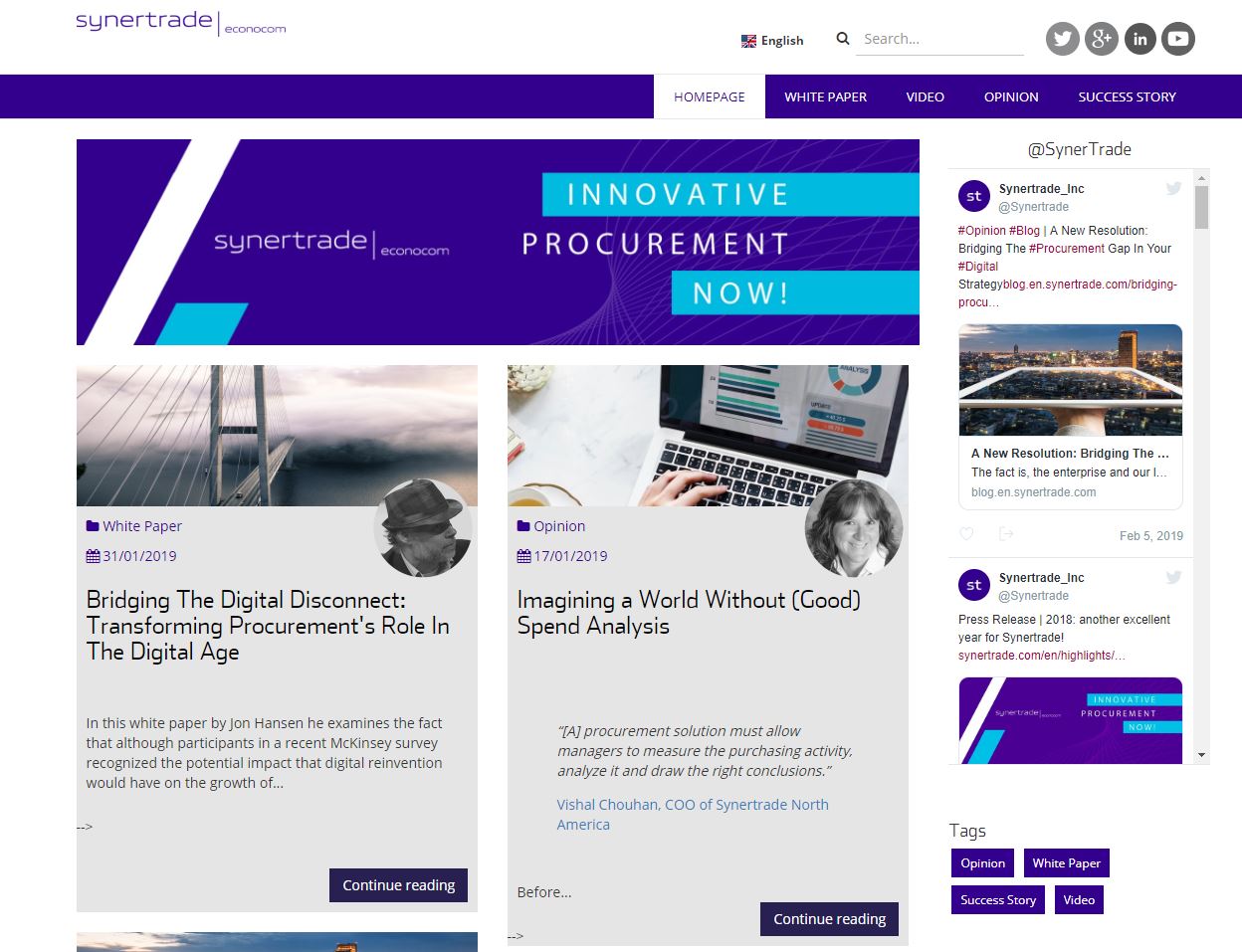 Old Synertrade blog - homepage
The Naes answer: a new design to affirm the blog and its contents
The purpose of Naes' intervention was to refresh and affirm the Synertrade blog as a platform distinct from the rest of the synertrade.com website (through which it can be accessed).
The main actions of this project for the artistic direction of Naes were therefore to:
make the content blocks on the home page more attractive and readable;
modify the typography to provide better reading and impactful titles;
create pictograms to distinguish between each theme of the blog: White papers, videos, forums, success stories;
rethink the call-to-action buttons and effects when using mouse-hover;
affirm the blog through a more readable header and an eye-catching title "The Blog";
redesign the internal pages to make reading more pleasant and encourage users to contact Synertrade;
rethink the contact page with a dedicated form;
be responsive in 3 rules: PC, Mobile and Tablet.
Cas client Naes - Blog SynerTrade nouvelle HP Desktop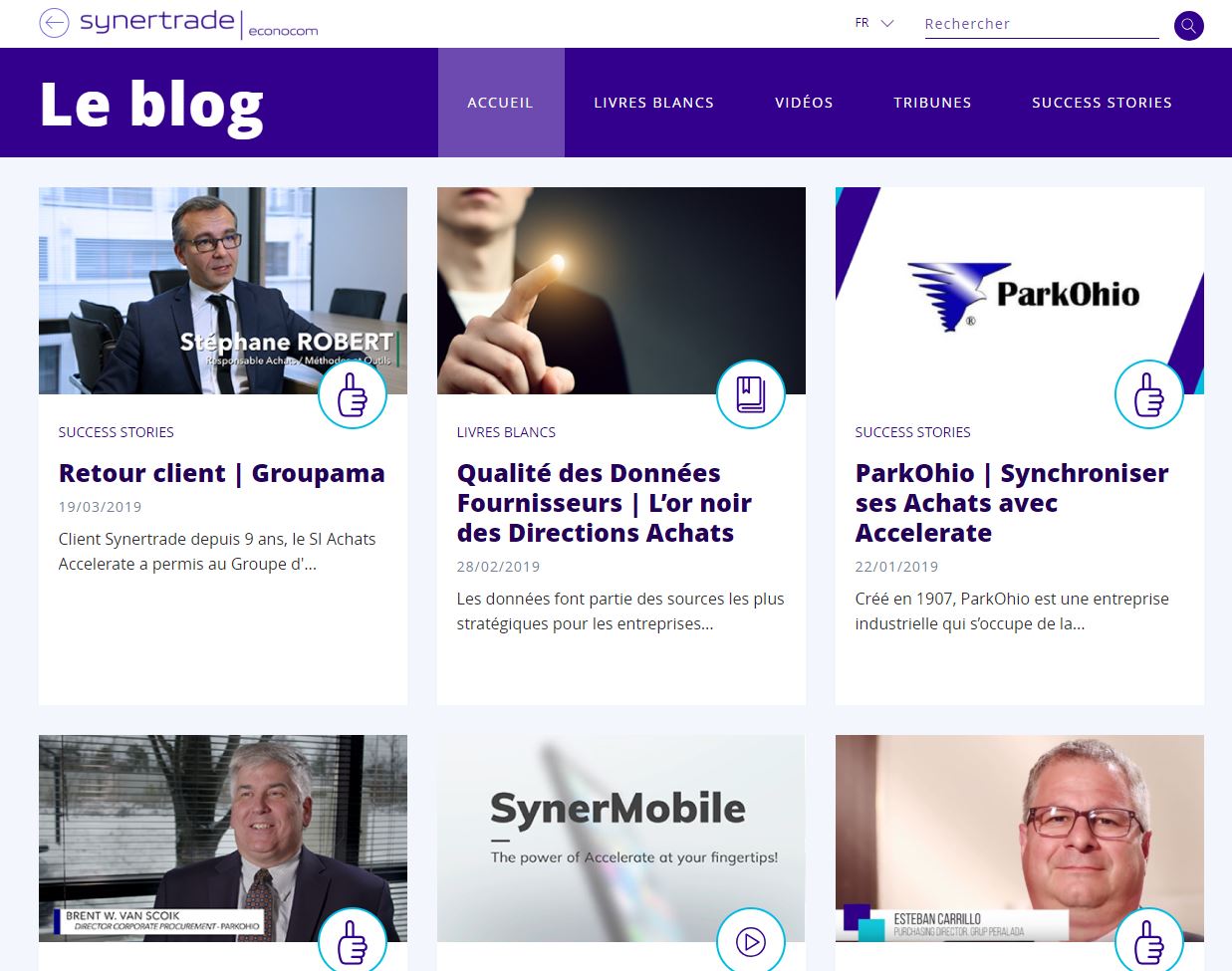 New Synertrade blog - homepage desktop
Cas client Naes - Nouveau blog Synertrade HP mobile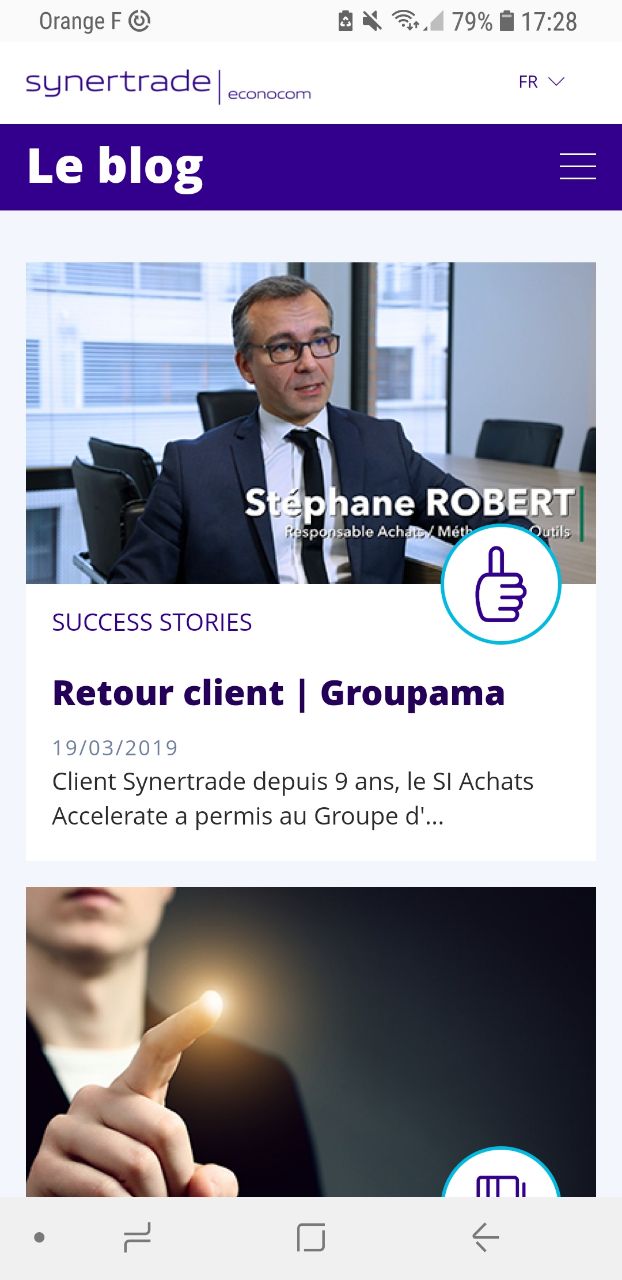 New Synetrade blog - homepage mobile
Cas client Naes - Nouveau blog Synertrade Page Desktop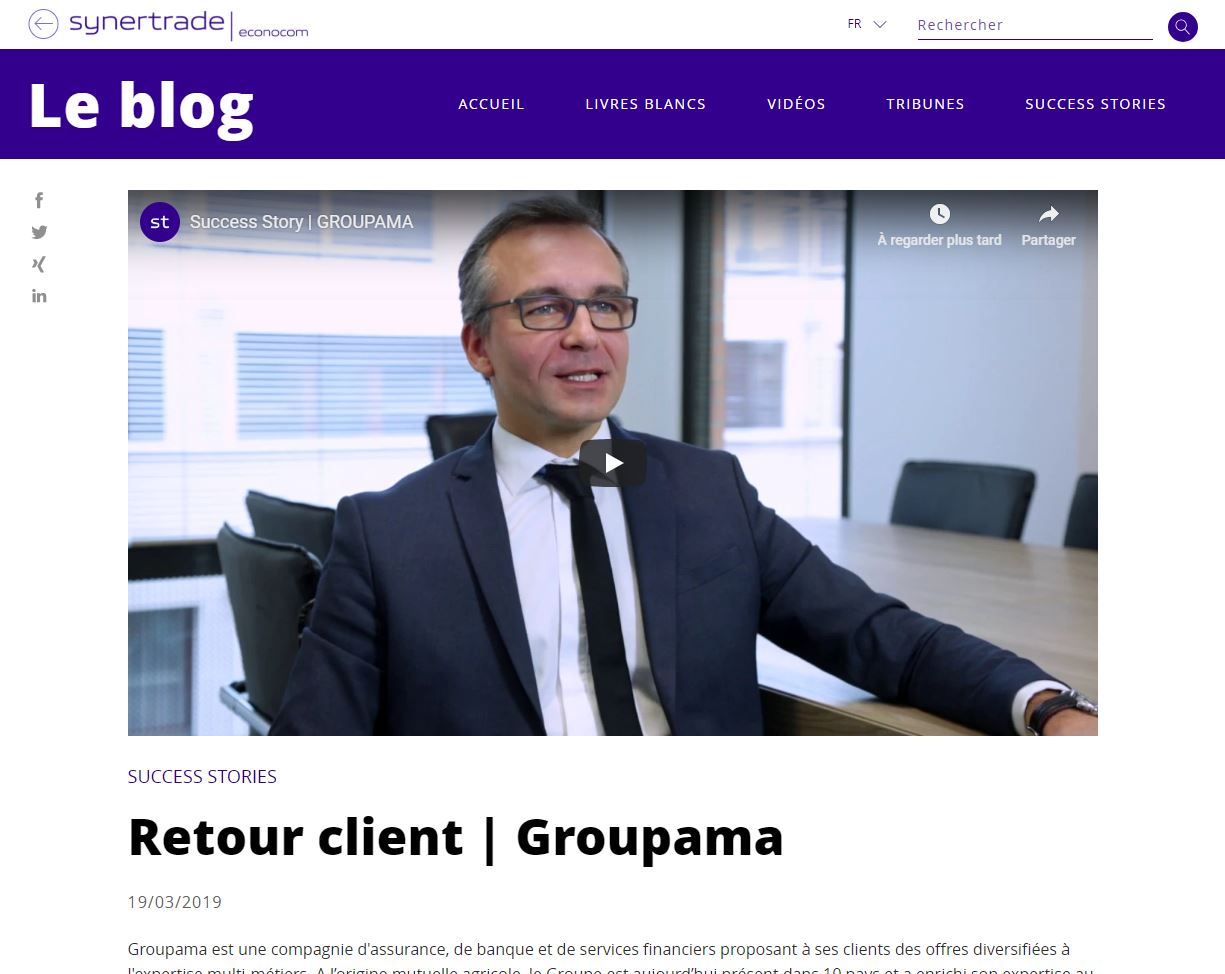 New Synertrade blog - internal page desktop
For this project, Naes has intervened on :
the analysis and expression of needs;
the realization of prototypes and graphic templates;
the IU/UX reflection;
the adaptation of the site's front-office based on Drupal.
Benefits for SynerTrade
For Synertrade, the benefits of this redesign are numerous:
the site has now a modern design and respects the Synertrade graphic charter;
the reading comfort of the articles and the differentiation of the blog's themes are improved for the reader;
the design of the site is designed to be responsive mobile, tablet, desktop;
the contact form is more readable and user-friendly;
click incentives are more attractive.
Post-project support
Naes continues to support Synertrade in the technical maintenance and evolution of their blog via its Third Party Application Maintenance contract, as well as in the design and development of new digital projects.