The client: Film France
Film France, a state-funding agency (supported by the CNC) in charge of promoting France, is the first stop for foreign production companies and individuals preparing to film in France. A network of local film commissions throughout the country offers free information on locations, crews, labour rates and facilities.
Film France provides assistance with contacting appropriate agencies regarding immigration/work permits and filming permits, as well as information regarding labour rates, studio facilities, post-production facilities and suppliers. Nowhere else in Europe will you find such a large diversity of locations combined with a highly skilled workforce.
Film France also provides information about co-production opportunities in France and assists foreign producer who want to apply for the TRIP (Tax Rebate for International Production).
Problem statement: make a new category for professional accounts
In 2015, Naes made the application dedicated to filming locations and continues in 2018 to make it evolve in collaboration with Film France.

Among its features, the application allows international film and audiovisual professionals (connected with a "Pro" account on the application) to look for filming locations for their next films in France, via access to more 40,000 listings.
Naes - Filming locations web application on mobile
Cas client Naes - Film France - anim mobile application lieux de tournage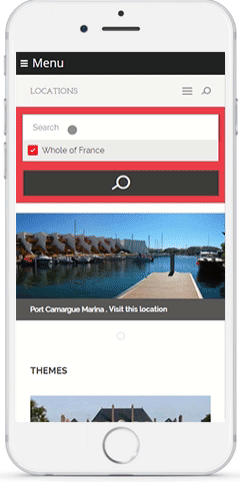 They can also create their locations portfolios, obtain multiple information on the places and especially the contacts of their owners and be notified regularly whether on PC, mobile or tablet!
Naes - Example of a location page on the application
Cas client Naes - Film France - visuel application lieux de tournage Usine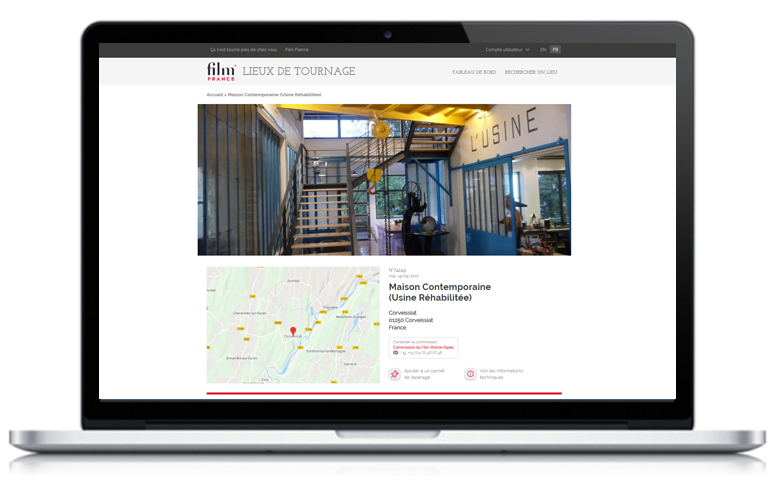 With the upcoming arrival of more than 3,000 new remarkable locations from the Paris / Île-de-France region, and in order to better serve professionals, owners and local commissions, it was decided to upgrade the application's features with a triple objective:
extend the possibilities of managing the display and search (especially in terms of access rights) of information for the locations presented;
enhance the quality of services offered to professionals by creating an additional level of access: the "pro plus" account;
reinforce the role and mission of each local office that is fully familiar with the proposed locations, and the most appropriate interlocutor to guide the professional in identifying them.
The Naes answer: create a "Pro Plus" (or Premium) account
Following the expression of needs and an impact study on the modifications to be made to the current database, the new version of the application was officially launched in the summer of 2018.
From now on, a professional user will be able to have two levels of access: "pro" and "pro plus". The "pro plus" accounts will have privileged access to more relevant or sometimes confidential information from certain filming locations.
Naes - Call-to-action to request access to a premium account on the web application
Cas client Naes - Film France - CTA

This new evolution is strategic in the daily management of filming locations for Film France and it ensures the independence of each of the regional film commissions as well as further improving the range of services offered.
The application in numbers
42,000 location sheets
2,000+ regular users of the application
10+ different user roles
1,300 locations owners
Technologies used for this project
CMS / Framework Drupal 7
LAMP Server (Linux, Apache, MySQL, PHP)
Framework jQuery, jQuery UI
Tomcat
Apache SolR search engine
Naes continues to support Film France in the technical maintenance and evolution of this web application through a Third Party Application Maintenance contract, as well as in the design and development of new digital projects.
If you also want to set up a search application with powerful customized features specific to your business sector, please do not hesitate to contact us!