The client: Antea Group
Antea Group is an international engineering and environmental consulting firm specializing in full-service solutions in the fields of environment, infrastructure, urban planning and water.
By combining strategic thinking, multidisciplinary perspectives and technical expertise, Antea Group does more than effectively solve client challenges - - it delivers sustainable results for a better future.
With more than 3.100 employees in over 80 offices around the world, Antea Group serves clients ranging from global energy companies and manufacturers to national governments and local municipalities.
Problem statement: how to optimize the quality and engagement of social networks publications ?
Antea Group was suffering from a lack of visibility on social networks. Without a dedicated strategy, the posts on Facebook and LinkedIn weren't qualitative enough and they didn't answer the challenges of the brand.
Among these challenges, Antea group needed to :
Develop the strength and the brand image of the group, reinforcing the communication its global organization and subsidiaries;
Support HR teams for the sourcing and hiring of the best engineers;
Support commercial strategy showcasing Antea Group know how and its case studies.
The Naes solution: an editorial line and a visual identity dedicated to Facebook and LinkedIn
Naes has helped Antea group's communication and commercial teams to define each steps of its social media strategy:
The target analysis and the definition of the objectives on social networks, especially Facebook & LinkedIn;
The implementation of an editorial line to answer Antea Group's challenges and to reinforce key messages;
The implementation of a graphic charter dedicated to social networks based on the group's visual identity to optimize brand awareness on social platforms.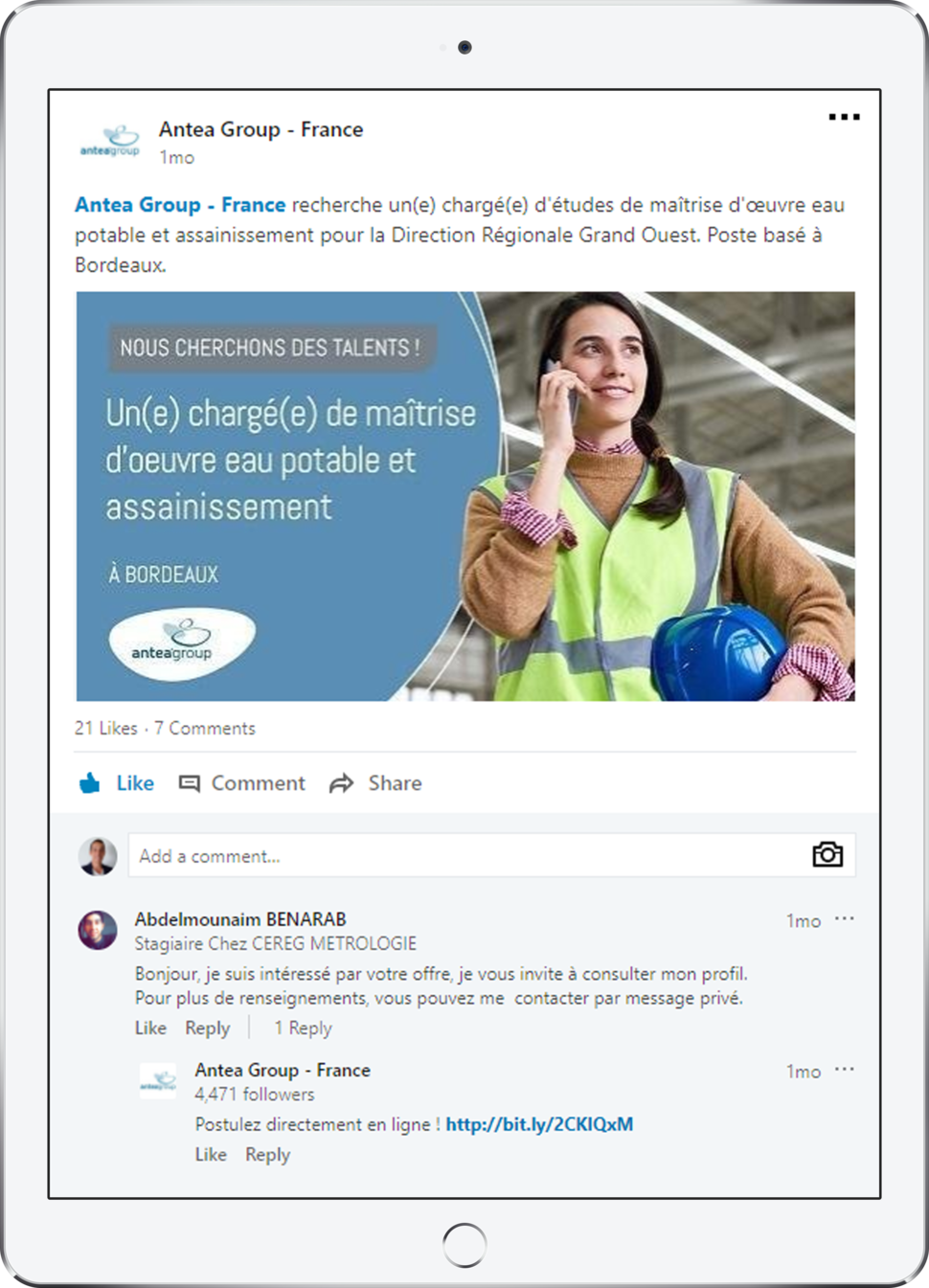 The benefits for Antea group
Since the begging of this project, the benefits for Antea Group had been many:
Antea Group has doubled its social networks organic engagement with a strong increase of likes and comments on LinkedIn posts;
Antea Group can use their graphical chart in several ways on social networks;
Antea group communication on social medias is more regular and helps to highlight employees know-how and support HR policy.
Post-project support
Still today, Naes helps Antea Group on a monthly basis with Community Management solutions (editorial production, publishing and moderation).
Please don't hesitate to contact us for developing your social media strategy. We will be happy to help you!